Back
Mission Nature, when lotteries and institutions join forces for the greater good

Following the "Mission Patrimoine" scratch game dedicated to the preservation of the French heritage, La Française des Jeux has once again teamed up with a public institution to create a game for the greater good. Committed to biodiversity, FDJ launched a scratch game called "Mission Nature" on October 23rd 2023 with the French Office for Biodiversity (OFB).
The commitment behind the game
The game, available at POS and online for €3, is a great example of how lotteries and institutions can work hand in hand to develop games for good and promote social change. In 2023, the FDJ Group became a major sponsor of the OFB by donating €500,000 to preserve biodiversity in France. For "Mission Nature", it was decided that €0.43 per ticket purchased will be donated by the French Government to the OFB to finance 20 carefully selected projects. The ticket offers players the opportunity to discover these projects by scanning a QR code or visiting the dedicated website.

Stéphane Pallez, Chairman and CEO of the FDJ Group, commented:
"The launch of the Mission Nature scratch card game, which we have been hoping and praying for, marks an important step for the Group in its commitment to biodiversity. Thanks to this game, everyone in France will be able to get involved in ecological restoration projects in their own region. We are delighted to be working alongside the French Office for Biodiversity, a major player in the conservation of biodiversity. This year, we have strengthened our environmental actions by becoming a patron of the OFB. FDJ is thus one of the first lotteries in Europe and the world to have invested in the protection of biodiversity and forest ecosystems".
How to play Mission Nature?
The online version of the scratch card consists of two symbol matching games and a bonus game. It offers players the chance to win up to €30,000. The design of the game emphasizes its mission by immersing players in the heart of a forest with waterways.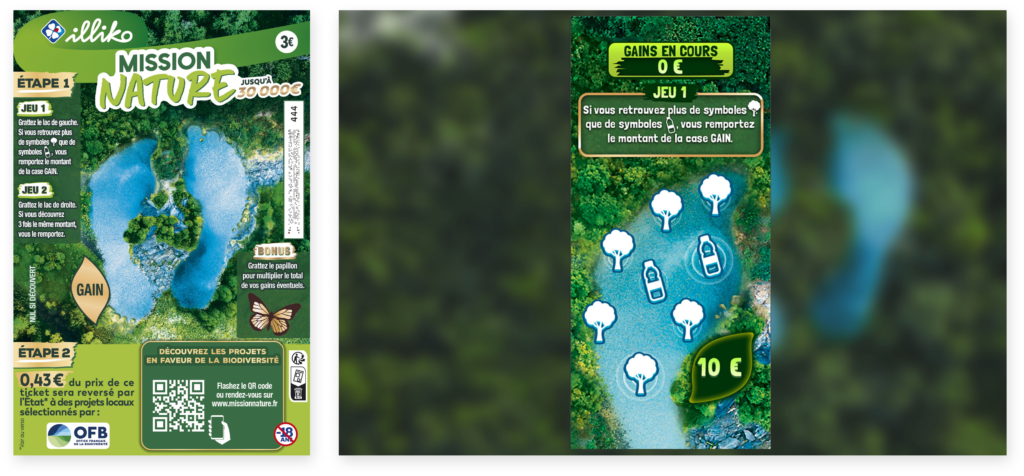 Game 1: Scratch the lake on the left. If more [TREE] symbols than [BOTTLE] symbols are found, the amount in the GAIN square is won.
Game 2: Scratch the lake on the right. If the same amount is found three times, it's a winner.
Bonus: Scratch the butterfly to multiply the total winnings.
"Mission Nature" is a shining example of how a lottery can make its commitments tangible. This physical and digital scratch card not only offers an original gaming universe but also actively engages players in a noble cause. It is a case in point of the positive impact that collaborations between public institutions and lotteries can have. As our society navigates ecological challenges, "Mission Nature" also serves as a reminder that every small act can make a difference in safeguarding our planet's precious natural heritage.
Read more news
Global Lottery Industry Leaders Partner on Innovative iDecide Games Where Players Can Decide to Stake Physical Game Winnings in Digital Game Play ATLANTA – October 12, 2022 – Scientific Games and Groupe FDJ, the operator of France's national lottery La Franϛaise des Jeux, unveiled iDecide, a revolutionary lottery game enhancement that gives instant scratch card...
Creating disruption in the online gaming world does not always require inventing novel gameplays and features to enhance players' experiences. Adding a modern twist to a classic game like Bingo can be an equally effective way to innovate and attract players. In fact, using existing game concepts can guarantee high engagement upon release since players...
Ready for a change?
Contact us to envision the future together with our experts advisors