Back
Preserving the French heritage with Mission Patrimoine 2023

Since 2017, La Française des Jeux has launched lottery games in which part of the winnings is donated to the Fondation du Patrimoine, whose mission is to preserve and restore French monuments. With this in mind, the "Mission Patrimoine" games have been launched every year since 2018, both at points of sale and online.
The 6th edition of Mission Patrimoine was launched on September 4th. The 2023 edition includes up to six mini scratch-off games.

– Game 1: If players match two identical symbols, they win.
– Game 2: If players find the word "heritage", they win.
– Game 3: If players find more key symbols than work symbols, they win.
– Game 4: If one or more of the players' numbers match one or more of the winning numbers, they win the corresponding prize(s).
– Game 5: If one of the players' symbols matches the winning symbol, they win the corresponding prize.
– Game 6: If players find the same amount three times, they win.
– Bonus: Players can scratch the bonus and discover a multiplier that multiplies any winnings accumulated in the six sub-games.

Each year, the game supports 18 French historical sites. The following monuments have been selected for the 2023 edition and are featured in three different versions of the game. Players are asked to choose the version they wish to play at the beginning of the game.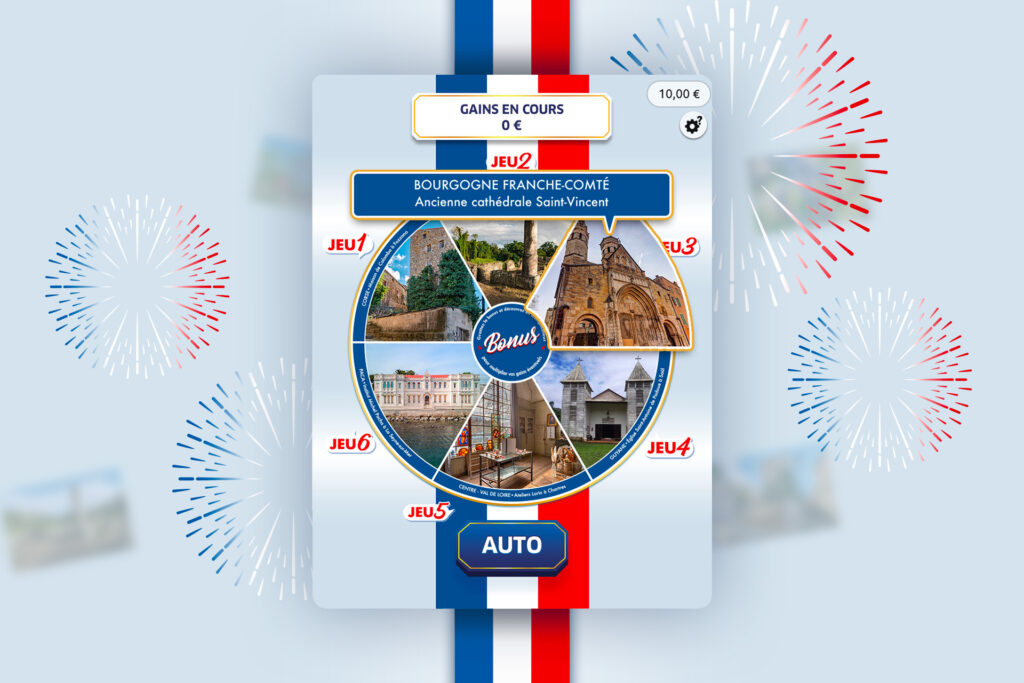 Corsica – House of Colomba in Fozzano
Guadeloupe – Sucrerie Belleville
Bourgogne Franche-Comté – Vieux-Saint-Vincent in Mâcon
Guyana – Saint-Antoine de Padoue church in Saül
Centre-Val de Loire – Ateliers Lorin in Chartres
Provence-Alpes-Côte d'azur – Institut Michel Pacha in La Seyne-sur-Mer
Brittany – Montmuran Castle
Ile-de-France – Châteaubleau archaeological site
Auvergne-Rhône-Alpes – Saint-Antoine-l'Abbaye Abbey
Occitanie – Ansignan aqueduct bridge
Normandy – Elbeuf Synagogue
Mayotte – Governors' residence
Reunion Island – Joan of Arc chapel in Saint-André
Martinique – Saint-Esprit town hall
Hauts-de-France – Chartreuse de Neuville
Pays de la Loire – Moulin de Brissac
Grand Est – Betschdorf pottery workshop
New Aquitaine – Saint-Jean de Sorde Abbey
With a €15 bet, players can win up to €1,500,000 and contribute to a good cause. In addition to the Illiko scratch card game, FDJ will be offering seven Loto draws dedicated to the Mission Patrimoine initiative, including a Super Loto, from September 4th to 16th.
Willing to develop games that fit your local context? Contact us to learn more
Read more news
Global Lottery Industry Leaders Partner on Innovative iDecide Games Where Players Can Decide to Stake Physical Game Winnings in Digital Game Play ATLANTA – October 12, 2022 – Scientific Games and Groupe FDJ, the operator of France's national lottery La Franϛaise des Jeux, unveiled iDecide, a revolutionary lottery game enhancement that gives instant scratch card...
Already missing the bright summer days? Bring back the scent of a barbecue with friends by discovering Instant Grill, a summer exclusive game from La Française des Jeux launched at the end of July 2023. Part of the Illiko® instant range of scratch cards, this game has a mouth-watering design that exemplifies seasonal animations, leaving...
Ready for a change?
Contact us to envision the future together with our experts advisors