Back
Revisiting an innovative scratch game rooted in reality: Project House

Our chart-topping game Project House was successfully released this week in its MAXI version, expanding the game family online for the first time around. To mark the occasion, we wished to recount the life of this gameplay and point out the differentiating features that attract a wide array of players and fuel its performance.
A concept that disrupts traditional scratch games
The Project House scratch gameplay is unprecedented and appealing to all kinds of players as it connects with their everyday reality like no other. Unlike number matching games or crosswords, its innovative concept merges a real estate theme with gains offered under the form of an annuity. It hence allows players to project themselves into a concrete investment they could make if they were to win the prize.

The real estate theme was chosen based on players' preferences. Indeed, when interrogated on how they would capitalize on their potential winnings, most players evoke buying a house. But since the meaning of such a project differs from one person to another, the game was infused with 4 different settings: the beach, the city, the countryside and the mountains.
The beauty of this game is that all players can be excited at the prospects of receiving an unearned income under the form of a monthly or yearly annuity even if they do not nurture a real estate project. The concept is simply dreamy in itself.
One scratch game, countless possibilities of adaptations
Positioned on the 3€ stake segment to render it affordable for younger generations, Project House offers prizes under two different forms: 250K to withdraw in one go or a 3K monthly annuity over 10 years.

In addition, as of October 3rd, a new MAXI version of this innovative scratch game positioned on the 5€ stake segment is now available in POS and online, marking the advent of a new annuity-based game family. The MAXI version reuses the game' original ingredients yet offers enriched mechanics and higher prospects: 500K to pocket immediately or a 1M€ annuity over 10 years!

Online, the two games' visual identities are harmonized yet individually striking to help players differentiate them. Furthermore, games' pages are linked to boost cross-selling.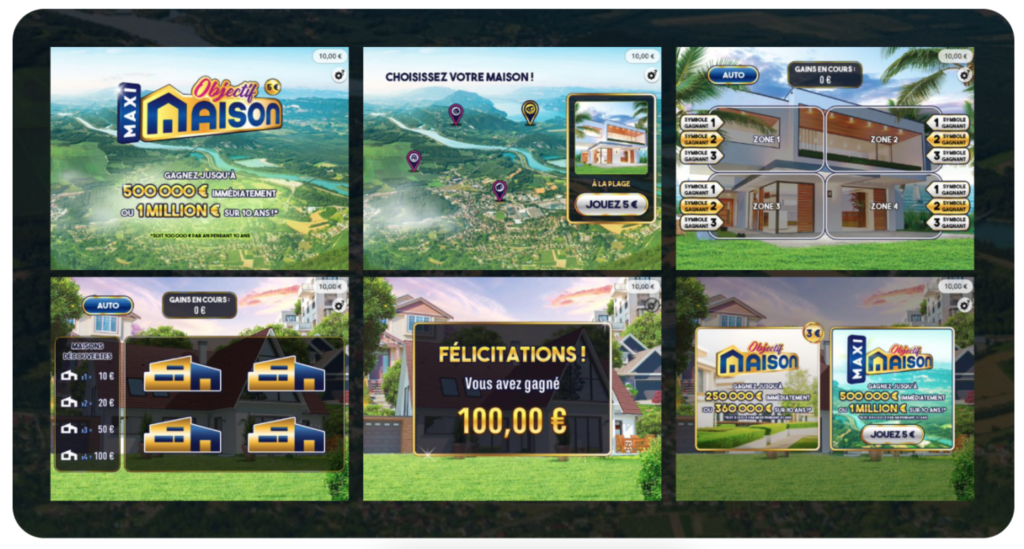 In the future, either within FDJ Gaming Solutions or on behalf of other lotteries, new adaptations of this innovative scratch game could be developed. By playing with wagers' levels and housing environments or simply exploring other thematics such as dreamlike holidays, fancy cars, … Many cultural adaptations may be supported.

An unparalleled long-term success
Originally, Project House was launched in 2021 to fill the void left by the discontinued yet record setting first annuity-based game entitled "10 Years Winning". The latter had outperformed all other games on the 25-34 years-old target between 2017 and 2019, thus setting the bar quite high for its successors. But Project House didn't disappoint as it registered the highest performance of all existing Illiko games on its 1st week of online launch, regardless of stakes' levels. It reached such an achievement without benefiting from any specific promotional scheme.

Today, despite the game not benefiting anymore from its first flush of youth, Project House is still arousing enthusiasm in a consistent way online as proved when highlighted on the FDJ Illiko homepage. The secret recipe of offering players the choice between an annuity and a withdrawal in one go – the annuity being higher than the immediate prize to make the choice more thrilling – has definitely demonstrated its worth over time. We hope to reap such good results with its new MAXI version.
Discover all our innovative scratch games
Contact us →
#innovationnetwork #lotterygames #lotterynews #onlinelottery #lottery2022 #gamingsolutions #fdjgamingsolutions #innovativescratchgames
Read more news
Global Lottery Industry Leaders Partner on Innovative iDecide Games Where Players Can Decide to Stake Physical Game Winnings in Digital Game Play ATLANTA – October 12, 2022 – Scientific Games and Groupe FDJ, the operator of France's national lottery La Franϛaise des Jeux, unveiled iDecide, a revolutionary lottery game enhancement that gives instant scratch card...
Already missing the bright summer days? Bring back the scent of a barbecue with friends by discovering Instant Grill, a summer exclusive game from La Française des Jeux launched at the end of July 2023. Part of the Illiko® instant range of scratch cards, this game has a mouth-watering design that exemplifies seasonal animations, leaving...
Ready for a change?
Contact us to envision the future together with our experts advisors