Back
How the Interactive Factory customizes lottery games for seasonal events in a flash

Dreaming of a world in which you could revamp your lottery games to coincide with yearly animations (Halloween, Christmas, Valentines' day, …) in no time at all and without development? Dream no more: the Interactive Factory has made it a reality. Gaming Solutions' distribution platform enables client lotteries to reskin their games and switch from one theme to another with a single click and no additional design efforts.
How does it work ?
Graphic designers at Gaming Solutions have developed several high-quality themes named "skins" that can be applied to lottery games according to the occasion at stake. In the back-office of the Interactive Factory platform, client lotteries simply have to select the skin they wish to apply to their game from a theme library without any coding knowledge. The game core remains unchanged but its visual aspect evolves to match a specific event. Client lotteries can also integrate their own personalized themes according to their country's cultural celebrations such as St Patrick's Day in Ireland.
Why contextualize lottery games ?
Contextualization is one of the strategies that a lottery can leverage in order to boost players' retention. By adding dynamism to the online experience, seasonal animations motivate players to come back frequently to explore new themes.

In addition, contextualizing games extends their life expectancy because players do not grow weary of them as fast as they would usually. It diminishes their impression of playing the same game over and over again and help lotteries maintain games online longer, hence reducing the number of new releases that have to be produced.
Examples of lottery games yearly animations
100 000 Surprises is a game from the FDJ Illiko catalogue that has a grid of 10 symbols to uncover in order to find a prize. If three identical prize are found, players win. Despite being very simple, this game is a recurring hit thanks to its permanent animation with the various themes that can be applied to it: Valentine's day, Easter, Halloween, Christmas, Planets, …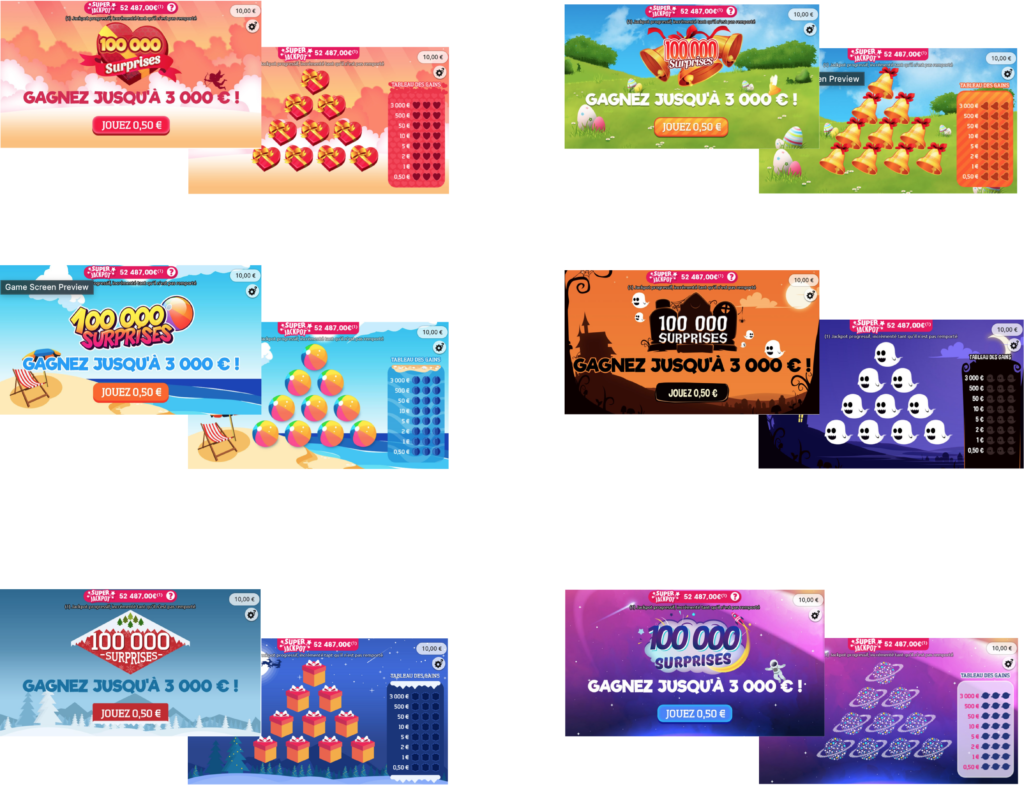 Crossingo is another einstant offered by FDJ. Players have a grid of 25 numbers and progressively reveal them. They need to fill an entire row, column or diagonal with the discovered numbers to win the associated amount. Tough the game rules never change, its skin evolves in summer & winter to reflect the players' gaming context. It also takes on a creepier look & feel during Halloween festivities.

Learn more about how the Interactive Factory can help your lottery reach its goals. Contact us
Read more news
Global Lottery Industry Leaders Partner on Innovative iDecide Games Where Players Can Decide to Stake Physical Game Winnings in Digital Game Play ATLANTA – October 12, 2022 – Scientific Games and Groupe FDJ, the operator of France's national lottery La Franϛaise des Jeux, unveiled iDecide, a revolutionary lottery game enhancement that gives instant scratch card...
The latest addition to the phygital games range part of the FDJ Illiko® family has been released on March 6th and its performance is already on target. Menez l'enquête (which translates into Lead the investigation in English) is a scratch card with a 5€ stake designed for players who enjoy suspense. It takes the latter...
Ready for a change?
Contact us to envision the future together with our experts advisors