Back
Unveil a new era of lottery excitement with EuroDreams

In today's digital age, players have developed new expectations for online lottery experiences, fueling the growth of instant games. As a result, draw games have seen less innovation, but EuroDreams aims to fill just this gap. Launched by La Française des Jeux on October 30, 2023, this forward-thinking release shakes up the lottery world for two main reasons.
1. It introduces annuity-based prizes into the draw game world
After LOTO®, Keno, Euromillions – My Million, for the first time in nearly 20 years, FDJ is offering its players a new draw game. Teaming up with 7 other European countries (Belgium, Ireland, Austria, Switzerland, Luxembourg, Portugal, Spain) to pool liquidity and offer players a higher jackpot, the originality of EuroDreams lies in the fact that it ignites within players the pleasure of winning every month. Replacing a one-time jackpot with an annuity-based prize of up to €20,000/month, it pushes the boundaries of traditional draw games. All told, this represents a total of 7.2 million euros paid out on a recurring monthly basis for 30 years. An annuity-based jackpot is attractive to players as it connects better with their everyday reality and personal investment strategies.

2. It banks on simplicity to reach a wider audience
Available both at point of sales and online (app' or website), EuroDreams delivers the most modern and user-friendly gameplay of all FDJ draw games. With few game options and a stable maximum payout from draw to draw, it makes betting accessible to all players, even those new to lottery.
To play, players only need to select 6 numbers and 1 dream number, indicate the day(s) of the draw(s) they want to participate in (Mondays or Thursdays), and the length of their subscription if they wish to play on a recurring basis (from 2 to 5 weeks). They can choose to fill in one or more grids and use the "Flash" button if they want to fill them automatically with random numbers.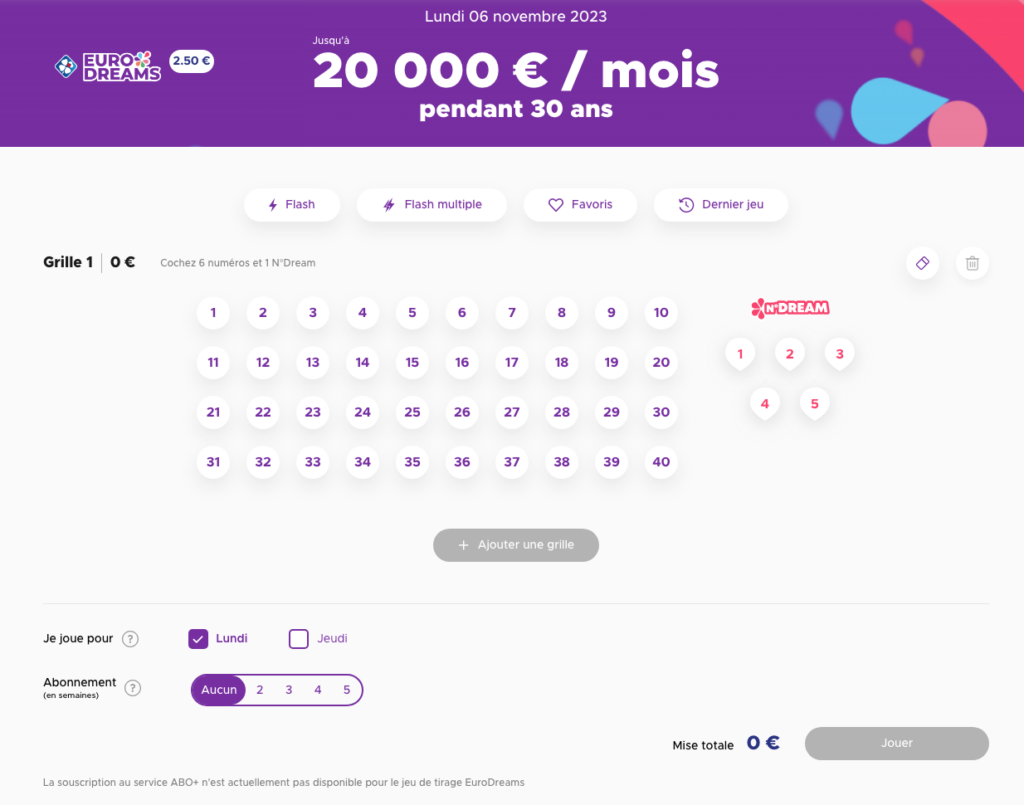 In addition, the seamless experience offered by EuroDreams is supported by its sleek design, which does not rely on traditional lottery symbols. Colorful, cheerful yet minimalist graphics enhance the accessibility and fluidity of the game. Harnessing the power of technology, 3D animated results can also be viewed in the app' and on the website to increase engagement.
In short, with its original annuity-based jackpot and ultra-simplified gameplay, EuroDreams is shaping the future of draw games.
Interested in our game development expertise?
Contact us
Read more news
Global Lottery Industry Leaders Partner on Innovative iDecide Games Where Players Can Decide to Stake Physical Game Winnings in Digital Game Play ATLANTA – October 12, 2022 – Scientific Games and Groupe FDJ, the operator of France's national lottery La Franϛaise des Jeux, unveiled iDecide, a revolutionary lottery game enhancement that gives instant scratch card...
Creating disruption in the online gaming world does not always require inventing novel gameplays and features to enhance players' experiences. Adding a modern twist to a classic game like Bingo can be an equally effective way to innovate and attract players. In fact, using existing game concepts can guarantee high engagement upon release since players...
Ready for a change?
Contact us to envision the future together with our experts advisors