Back
Deal or No Deal, the ultimate omni-channel gaming experience

Due to the pervasiveness of digital in everyday life, consumers are now accustomed to engaging with brands and products across multiple touchpoints and moving seamlessly between them. Providing players with a consistent gaming experience across all channels has therefore become essential to maintaining high levels of engagement. With the launch last week of an Instant version of Deal or No Deal ("A Prendre Ou A Laisser" in French), FDJ has created a concrete example of how a single game can be transformed into three distinct experiences, covering all available gaming touchpoints. Find out below how the game was adapted to the new expectations and habits of players.
1. From a popular TV show to a scratch ticket
The first innovation brought to players was the successful adaptation of the popular TV show Deal or No Deal into a single scratch ticket. This was no easy task given the complexity and length of the original game. With 24 boxes containing randomly distributed prizes and a banker making regular phone calls to offer additional prizes, many interactions needed to be replicated in a physical ticket.

In the scratch card version, the decision was made to ask players to scratch off a smaller number of boxes (15) and their associated prizes, one at a time. At the end of this process, a final prize remains, which is the one that the player has won. In addition, to mimic the interaction with the bank, a bonus game represented by a red phone was added to the ticket. Players must scratch the phone to find out if they have won an additional prize.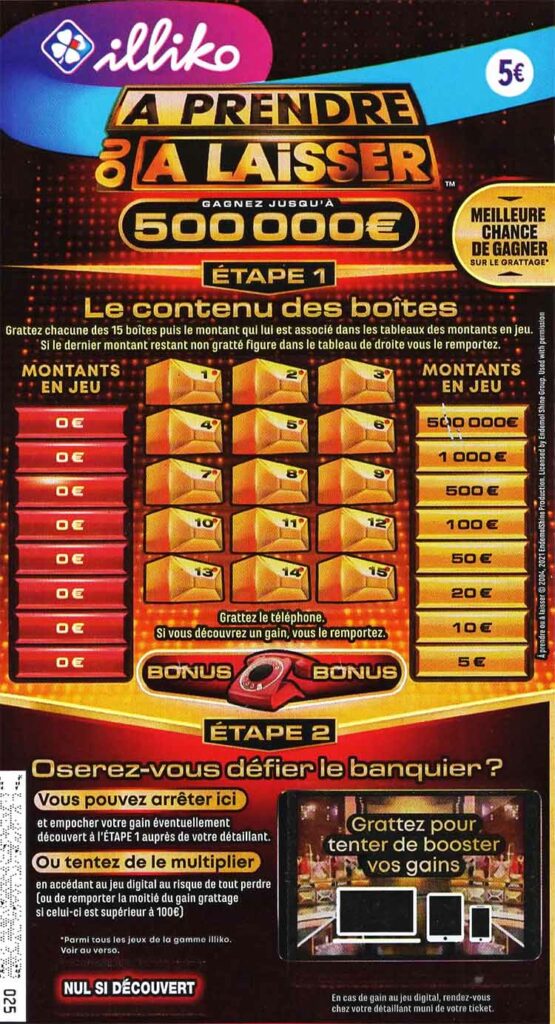 2. From a scratch ticket to an online extension
To enhance the overall gaming experience, the game was enriched with a digital extension. At the bottom of their tickets, players can scratch a QR code to access a second game online. The prerequisite for players to start playing is to wager their winnings again at the risk of losing everything, adding an exciting twist to the physical game. The online extension of Deal or No Deal reflects quite faithfully the TV storyline: players must select one box at the beginning and gradually eliminate all the others, while deciding whether or not to accept the offers made by the banker.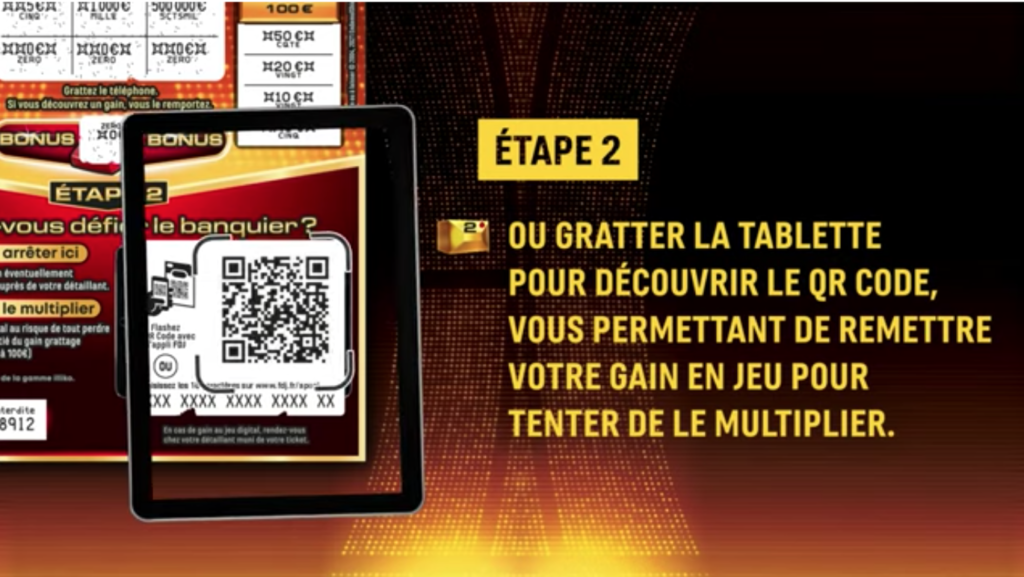 Bridging the physical and digital gaming worlds through an extension has the benefit of modernizing the in-store experience and converting traditional players to digital gaming channels. More about iDecide's physical products can be found in our dedicated article.

3. From an online extension to a standalone eInstant
Finally, La Française des Jeux launched a standalone "instant" version of the game last week. Inspired by the digital extension of the scratch card, this new Online Exclusive presents players with 20 boxes from which they need to pick. Then, the game is played in three consecutive rounds. At the end of each round, players have discovered their prize and must decide whether to pocket it or put their winnings on the line again. When they reach the third round, multipliers of up to x1000 are introduced, along with an increasingly insistent banker who calls them with two ultimate proposals that add tremendous suspense: buy their box for a set amount or exchange it for another.


With its ability to offer several gaming experiences on multiple channels, as well as its "stop or continue" mechanics that give players a sense of control over the outcome of the game, Deal or No Deal is definitely a prime example of how to engage players by leveraging the opportunities offered by the digitalization of the lottery industry.
Interested in developing omni-channel games?
Contact us
Read more news
Global Lottery Industry Leaders Partner on Innovative iDecide Games Where Players Can Decide to Stake Physical Game Winnings in Digital Game Play ATLANTA – October 12, 2022 – Scientific Games and Groupe FDJ, the operator of France's national lottery La Franϛaise des Jeux, unveiled iDecide, a revolutionary lottery game enhancement that gives instant scratch card...
Creating disruption in the online gaming world does not always require inventing novel gameplays and features to enhance players' experiences. Adding a modern twist to a classic game like Bingo can be an equally effective way to innovate and attract players. In fact, using existing game concepts can guarantee high engagement upon release since players...
Ready for a change?
Contact us to envision the future together with our experts advisors