Back
Back to the 80's with Club Color instant scratch-off

Club Color, one of the latest Illiko® scratch cards from La Française des Jeux, is an example of a game off the beaten track. Far from traditional lottery codes, it exploits the theme of the 1980s to transport players into a retro universe of its own. Disco balls, lollipops, neon colors, … a wide array of symbols recreate a unique vintage decor. Sold both online and in-store, players can travel back in time and try their luck for €5.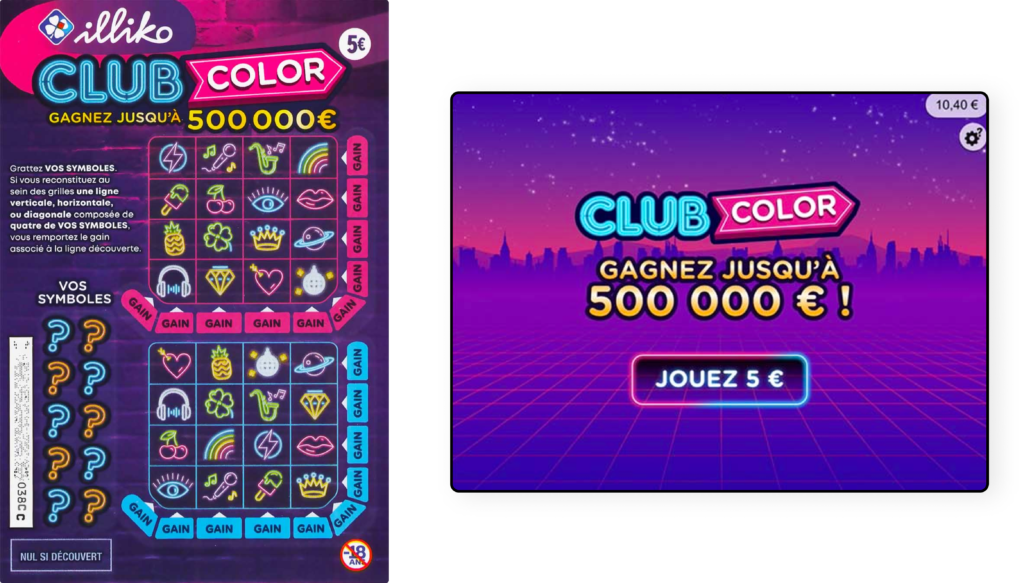 Enticing nostalgics and younger players alike with its colorful display, Club Color stands out for the length of the gaming experience it offers. With a total of 20 symbols to uncover, the suspense and excitement are heightened compared to regular scratch-offs.
To play, players have to first uncover their lucky symbols and then scratch two grids of 10 symbols each to reveal their prize. If they form a vertical, horizontal, or diagonal line with four of their ten symbols, they win.

The prize amount can be discovered by virtually scratching the rectangle at the end of the winning line. Players can earn up to €500,000!
Thanks to its cheerful retro theme and simple mechanics, Club Color successfully appeals to players of different generations. A great example of how traditional scratch cards can be revamped to engage a wider audience!
Willing to enrich your instant games portfolio? Contact us
Read more news
Global Lottery Industry Leaders Partner on Innovative iDecide Games Where Players Can Decide to Stake Physical Game Winnings in Digital Game Play ATLANTA – October 12, 2022 – Scientific Games and Groupe FDJ, the operator of France's national lottery La Franϛaise des Jeux, unveiled iDecide, a revolutionary lottery game enhancement that gives instant scratch card...
Already missing the bright summer days? Bring back the scent of a barbecue with friends by discovering Instant Grill, a summer exclusive game from La Française des Jeux launched at the end of July 2023. Part of the Illiko® instant range of scratch cards, this game has a mouth-watering design that exemplifies seasonal animations, leaving...
Ready for a change?
Contact us to envision the future together with our experts advisors