Back
Sit at a virtual card table with As de Coeur

Card game fans will be thrilled to learn that La Française des Jeux recently reissued As de Coeur, a popular game launched in June 2022. This scratch game, available both online and at retail points, brings the simple and refined atmosphere of a card table to life. Let's explore the game's unique features below.
Providing players with an extended gameplay
The game mechanics contain many twists and turns to ensure a suspenseful and exciting gaming experience: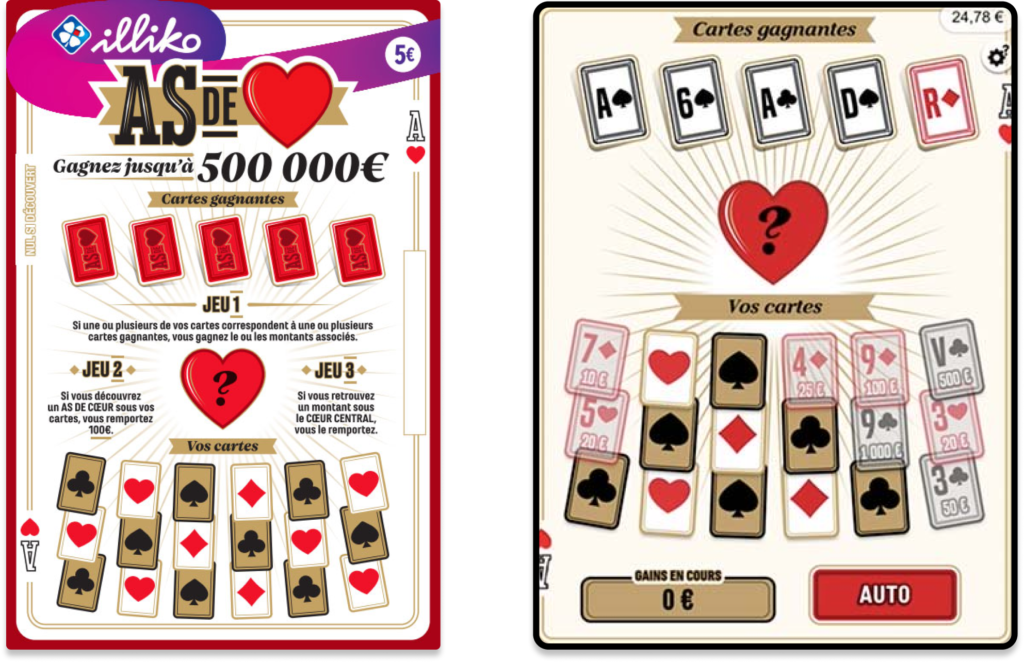 – To begin the game, players gather around the virtual table and reveal five lucky cards. They then flip through their own deck of eighteen cards to see if they are stacked in their favor. If their cards match the lucky ones, they win the corresponding prizes, and if the Ace of Hearts is among their cards, players win €100 in one go!
– To end the game, players have to scratch off the heart at the center of the screen. If it contains a prize, they win the amount revealed. In all, with a 5€ bet, players can try to win up to €500,000!

Recreating an evergreen ambiance online
As de Coeur stands out by its ability to virtually immerse users in the familiar universe of card games with hearts, diamonds, clubs and spades. With its jazzy music, sophisticated color code and red carpet display, players are in for a treat.

Last year's design:

This year's design:

Thanks to its evergreen thematic and advanced mechanics, this instant scratch game from La Française des Jeux holds all the aces.
Interested in adding iconic games to your portfolio?
Contact us
Read more news
Global Lottery Industry Leaders Partner on Innovative iDecide Games Where Players Can Decide to Stake Physical Game Winnings in Digital Game Play ATLANTA – October 12, 2022 – Scientific Games and Groupe FDJ, the operator of France's national lottery La Franϛaise des Jeux, unveiled iDecide, a revolutionary lottery game enhancement that gives instant scratch card...
Creating disruption in the online gaming world does not always require inventing novel gameplays and features to enhance players' experiences. Adding a modern twist to a classic game like Bingo can be an equally effective way to innovate and attract players. In fact, using existing game concepts can guarantee high engagement upon release since players...
Ready for a change?
Contact us to envision the future together with our experts advisors